The ultimate guide to British Airways Wi-Fi and in-flight entertainment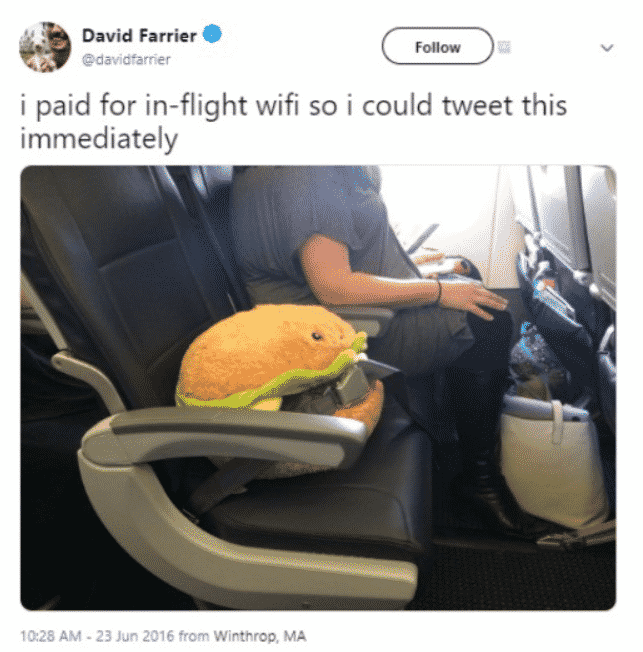 Traveling has never been easier—you can hop on a plane, and in less than half a day, you're at the other side of the world. Still, 11 or 12 hours is a long time, and we all require entertainment.
Some people need to work on the road, and for them, Wi-Fi is one of the essential features of a flight. Others prefer to Netflix and chill, and some people will sleep through the entire ordeal.
[forminator_form id="17333"]
Depending on how vital inflight entertainment is to you, you might want to go through some trouble to make sure you're traveling with an airline that can provide what you need.
Here's all you need to know about the inflight entertainment for British Airways.
How to connect to Wi-Fi on British Airways flight
If you're lucky enough to be on a plane with wifi service, here's what you need to do to access the internet.
Choose the device you want to use during the flight. You won't be able to switch between gadgets during a single trip, so choose the one with the most durable battery.

Once the plane has gone over 10,000 feet up, enable 'flight mode' on your device.

Enter Wi-Fi settings on your device, find the 'BAWi-Fi' network, and join.

.air homepage will open automatically when you open your web browser. If it doesn't, you'll need to type shop.ba.com to register or log in.

Take a look at the Wi-Fi packages offered and choose the one that's right for you.
If you have any problems, the staff should be able and ready to help you.
Common issues with British Airways Wi-Fi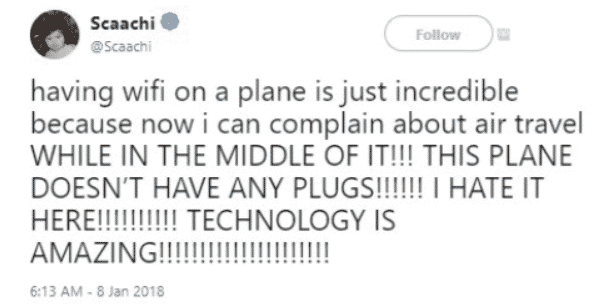 British Airways are relatively new to the ways of Wi-Fi. It's barely believable, but they only started providing the service in 2016. On the bright side, at least now that they're doing it, they're doing it well—there are few passenger complaints on their Wi-Fi.
There are few, yes, but they do happen. The thing is, British Airways offers two modes of Wi-Fi—Browse and Stream. The first is slower and meant for, well, browsing, using social networks, and so on. It's good enough if you have to download a document or two, but it won't get you far if you need to do some serious work. The second boasts a higher speed, which in theory should be enough for watching Netflix, going through YouTube videos, and the like.
Both have, at times, proven to be unequal to the challenge. If you want to watch a film or a TV series, you won't be able to skip forwards or backward without long periods of buffering. You can have issues even with social networks because images will load with difficulty, or just crash in the middle of loading. These issues rarely happen, but they do happen. They're incredibly vexing, but look at it from the bright side—at least you're self-improving by working on your patience!
Another problem is that they'll sell you packages of one and four hours. It wouldn't usually be a problem, except for the fact that the time expires in one session—you can't pause it and go back to it later. From the moment you start using it, your hour starts expiring regardless of whether or not you're using the internet. Remember what we said about patience a paragraph ago? Well, it can really get tested when the internet is painfully slow, and your hour (or four) is about to expire.
Can you get compensated for weak Wi-Fi on British Airways flight?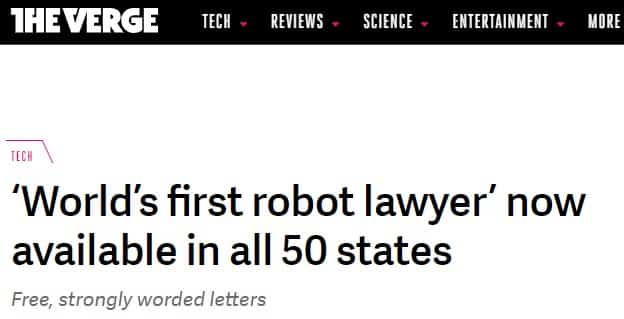 British Airways are not known for their excellent customer service. The processing of your claim can—and will—take up to 28 days. By the time they process it, you're probably going to forget what it was about anyway.
No airline wants to give your money back, and British Airways is no exception. At best, they might offer a voucher for a future flight.
What makes matters much worse is the fact that, by the law, they are not required to give you anything! Their response to your complaint is entirely up to them, and you can complain until you're blue in the mouth—if they don't want to budge, there's nothing to force them.
Of course, you can try shaming them on social media. It often works, so it's worth a shot. If that doesn't help, you can take matters to a small claims court. Is the refund worth the hassle, though?
How can DoNotPay help you get a refund for poor inflight Wi-Fi experience?
Because dealing with compensation is so annoying and time-consuming, many people are likely to give up before even trying. Dealing with customer service is not worth the money you'll get in compensation for your less-than-satisfying inflight Wi-Fi experience.
So is that it? You're just going to roll over and accept your sad fate?
Of course not—DoNotPay is here to fight this particular battle for you. You can get compensated without wasting your time and effort going around in circles, trying to figure out whom to badger to get some justice.
Here's how to go about this with DoNotPay.
Open the DoNotPay app on

your browser

.

Choose "Inflight wifi Protection."

Have a quick chat with our chatbot. You'll need to provide some basic info, such as the airline, wifi purchase number, and the internet provider on your flight. You can find all the details on your receipt.

Confirm your email address.

In up to 48 hours, the app will notify you of the progress of your complaint.
If this sounds like a much more comfortable and pain-free way to get (some of) your money back, it's because it is precisely that—a way for you to get a refund you deserve without breaking a sweat.
Does British Airways Wi-Fi support Netflix?
If you're a Netflix addict, you're in luck—British Airways does support Netflix. Not only do they support it, but it's watchable most of the time, with rare instances of the Wi-Fi not working well enough to stream your favorite show.
How fast is British Airways Wi-Fi?
Officially, the speed doesn't go below 250kbps for a Browse package or 660kpbs for a Stream package. In practice, though, the speed for both can plummet to pathetic 0.16Mbps. On average, with Browse, you'll get between 170kbps to 1Mbps and about 5Mbps for Stream. It all depends on the flight, so no info is set in stone.
Cost of Wi-Fi on British Airways flight
British Airways offers two different wifi plans—Browse, with a slower connection for browsing through the articles on the web, social networking, messaging and email, and Stream, with faster connection for watching films, listening to music, etc.
Here are the prices for the packages within these two plans.
Browse
Stream
One hour
Four hours
Full flight
One hour
Four hours
Full flight

£4.99

£10.99

£14.99

£7.99

£17.99

£23.99
Compatible devices on British Airways Wi-Fi
British Airways Wi-Fi can be used with every device that is wifi friendly. You can only use one device for the entire flight.
Other British Airways inflight entertainment
Other than Wi-Fi, British Airways provides:
Digital newspapers and magazines

A wide range of movies and TV programs

Entertainment for kids.
Digital newspapers and magazines
If you'd like to read some news, there is a plethora of digital newspapers and magazines to choose from.
A wide range of movies and TV programs
There is something for every taste—from Oscar-winning blockbusters to cooking shows.
Entertainment for kids
If you're traveling with the youngest family members, fear not—they'll be adequately entertained as well.
What else can DoNotPay do?
DoNotPay is here for other annoying little things as well. Our app allows you to: 
Fight speeding tickets

Dispute traffic tickets
[forminator_form id="17333"]